Montego Bay is the most visited city in Jamaica, After Kingston. It's been a well-liked spot for getaways of various kinds, such as honeymoons, destination weddings, and romantic retreats, for more than 50 years.
This Caribbean city has everything you need for a relaxing vacation: white-sand beaches, a rich history, and a slow pace.
One of the main reasons tourists travel to Montego Bay is to unwind, and the area's stunning beaches provide the ideal setting for doing nothing but taking in the magnificent Jamaican weather. Just 300 feet (92 meters) from the seashore, the beaches include white sand, clear water, and coral reefs that are excellent for snorkelling. You can rent a lounge chair and have cocktails delivered from the beach bar. The locals run on "Jamaican time," so although service may occasionally be slow, it will always be welcoming.
Today we will discuss all of Montego bay. How can you spend a day in Montego bay?
Best things to do in Montego and many more.
So let's start.
Things to do in Montego Bay
You'll have many options if you're looking for things to do in Montego Bay, Jamaica! Although Montego Bay is well known for its stunning beaches, there is much more to this thriving Caribbean city.
Some of Jamaica's most well-known tourist destinations can be found at Montego Bay. There is something for everyone in Montego Bay, from watersports and jungle excursions to historical and cultural monuments, vibrant markets, and fascinating nightlife. Here are the top 20 things to do in Montego Bay in a day.
1. Doctor's Cave Beach
A private or group tour that includes sightseeing, shopping, dinner on the Hip Strip, or even a scuba diving adventure can take you to Doctor's Cave Beach for a half-day, full-day, or multiple-day experience. All visitors are welcome at the friendly beach, from leisurely sunbathers to energetic adventurers. Swim in the warm, turquoise ocean, ride a Jet Ski, fly through the air on a parasail, cruise in a glass-bottom boat, or relax on the sand with a pina colada. Umbrellas, beach chairs, and snorkelling equipment are available for rent at the resort. Take a short walk to the Sand Restaurant and Bar on the beach if you're hungry.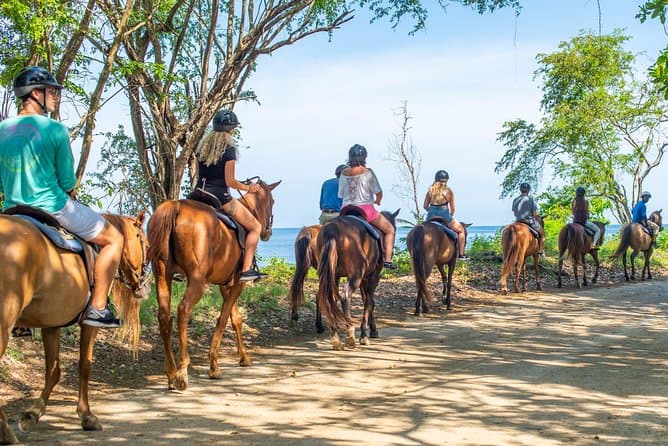 2. Horseback Ride And Swim
It's among the most unusual outings you'll ever take. A dream come true is swimming with horses in the Caribbean Sea.
Beginning with a 30- to 45-minute trail ride through farmland and jungle paths, the tour concludes at a beach for the obligatory photo stop. The passage of a lifetime begins after returning to the corral via the beach and a chest-high ride in shallow water.
Get on a tour that stops at Chukka Cove in Llandovery on the way to St. Anne. On the bare back of a horse, it takes 15 minutes to swim out to sea. Additionally, everyone is wearing flotation gear, and horses are great swimmers! Don't worry; the horses enjoy the cool water's feel on their coats, and you are entirely safe because at least three guides will be riding horses alongside you.
3. Enjoy aquatic activities, including boat excursions, jet skiing, and parasailing.
Due to the breathtakingly beautiful and quiet seas, Montego Bay is a popular destination for tourists who enjoy water sports.
Numerous businesses provide parasailing, jet skiing, and banana boat rides. To see the colourful marine life in the seas near Montego Bay, you can also join a glass-bottom boat trip.
All-inclusive resorts typically feature some water sports; Sandals properties undoubtedly do. When making your hotel reservations, double-check everything.
4. Bobsleigh on Magic Mountain
Most people will recall the 1988 Calgary Winter Olympics' inaugural Jamaican Bobsled squad from the John Candy film Cool Runnings. They later became international superstars while competing in the Pyeongchang Olympics under Red Stripe sponsorship.
One of the most distinctive tourist destinations in the Caribbean is Mystic Mountain, where you must experience bobsledding for yourself. Take a chairlift to the summit of the mountain to reach the Olympic museum, home to athletes like Jamaican sensation Usain Bolt, Canadian favourite Donavon Baily, and the Jamaican Bobsled squad, among others.
You can hang around, relax by the pool, or hop on your bobsled right away for a wild Jamaican adventure.
5. Sail To Negril
Set sail towards Negril, where you can take in the picturesque coastline before diving into the water to snorkel on the reef. We began our adventure by snorkel. It's beautiful to snorkel in the Montego Bay Marine Park, a protected area to preserve the local marine species. We saw pufferfish, trumpetfish, and barracuda, three of my favourite fish.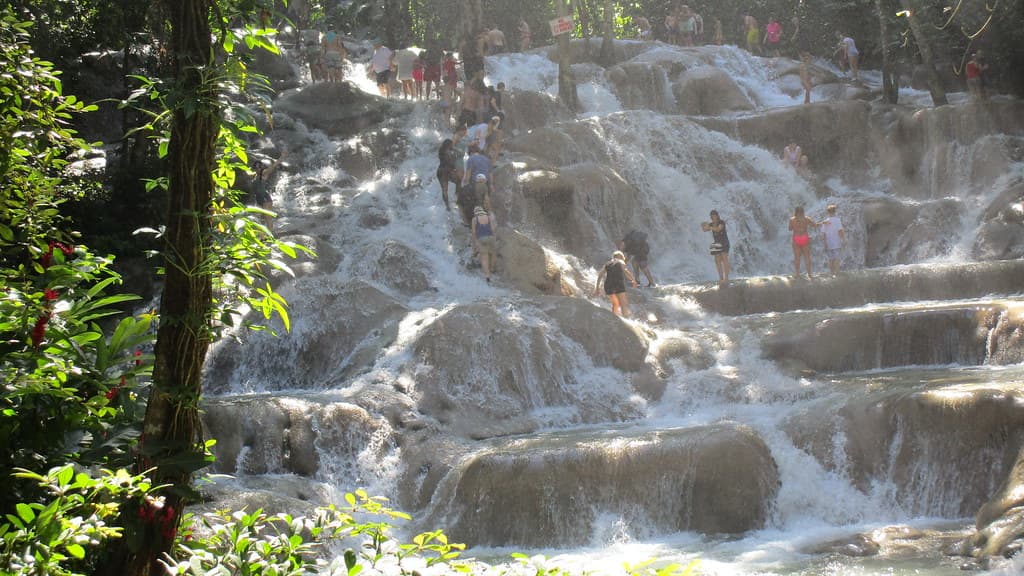 6. Dunn's River Falls
Dunn's River Falls is one of the more well-liked Montego Bay day trips close to Ocho Rios. Plan accordingly because it is an hour and a half from the city. Tourists like hiking up to the 180-meter-high cascading Dunn's River Falls.
Many trips offer combo excursions, such as a journey to Green Grotto Caves and a stop at Dunn's River Falls. Another option is to go for a morning ride and swim before continuing to Dunn's River Falls in the afternoon.
7. Luminous Lagoon
On this evening tour from Ocho Rios, you will be immersed in Falmouth Mystic Lagoon's surreal glow. Set out on the lagoon in a tiny boat under the stars and watch as many minuscule species move, generating waves and patterns of blue light. Jump into the lake and participate in this dazzling dance while admiring yourself and your loved ones in the beautiful underwater glow.
8. Rick's Cafe
You'll stop at Rick's Cafe, one of the island's busiest pubs, before going home to catch the legendary cliff divers in action. Although visitors are welcome to jump off the cliffs, there have been several accidents. Let the experts handle it is best.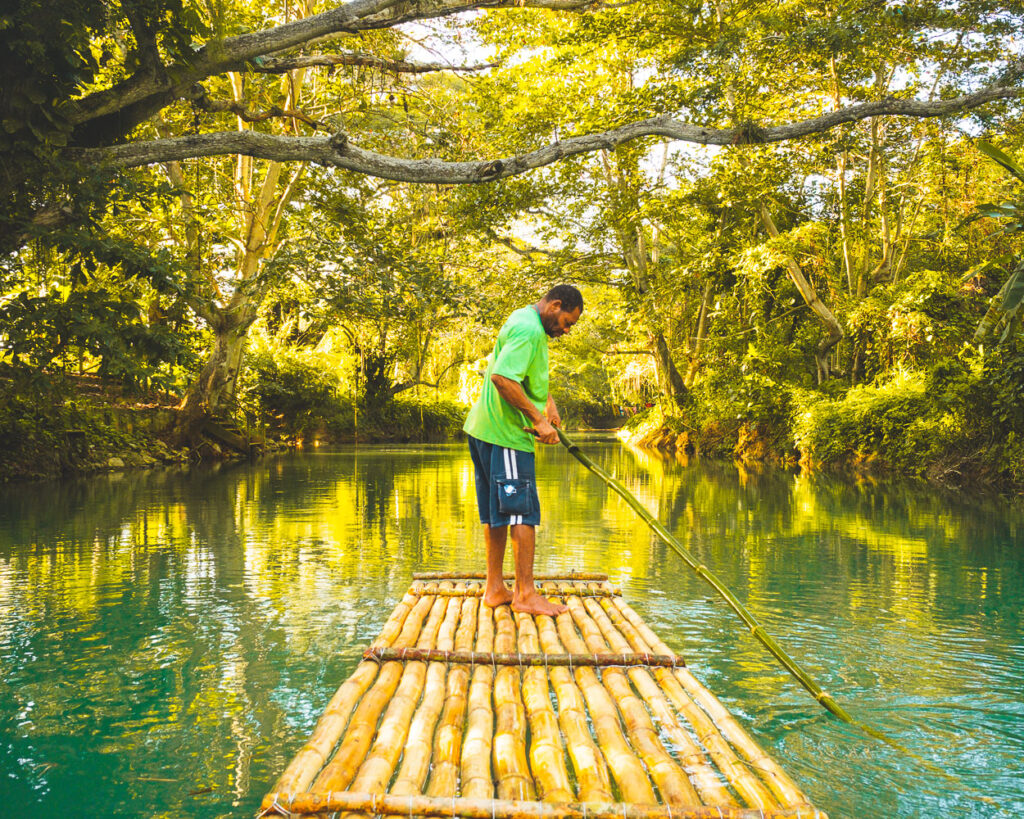 9. Martha Brae – Bamboo Rafting
Nothing beats a bamboo rafting trip down the Martha Brae River for relaxation or romance. As you float through historic plantations and tropical surroundings, the vista is breathtaking. Along the route are bars, stores, and rope swings, so bring some cash if you want a beverage on the river. There is little possibility of getting wet, but a dry bag is a smart option if you want to be sure that your cameras and wallets stay dry.
10. Explore Montego Bay's rich cultural and historical landmarks.
Some of the more unexplored places that should be explored in Montego bay include Rose Hall Great House, Greenwood Great House, Sam Sharpe Square, Green Grotto Caves, and St. Mary's Anglican Church.
The Rose Hall Great House is a historic sugar plantation erected in 1770 and is now open to the public as a museum. Take a guided tour and learn about the city's history.
Another historic property in Montego Bay is the Greenwood Great House. You can tour the grounds and learn about the history of the plantation, which is well-preserved in Jamaica. This ancient property dated back more than 200 years and was formerly held by the family of English author Elizabeth Barrett Browning.
Sam Sharpe Square honours Sam Sharpe, an enslaved person and Baptist deacon who was hung here in 1831-32 for his role in the Baptist War slave insurrection. This uprising erupted as local landowners ignored enslaved people's requests for a living wage and more freedom. Shortly after Sam Sharpe's terrible death, the United Kingdom began trying to abolish slavery. After Jamaica gained independence and declared him a national hero, the square was renamed after him. The church where he served as a deacon is close, and his ashes are placed there.
The Green Grotto Caves provide an intriguing look into Jamaica's rich history. The native Tainos peoples first exploited this labyrinth of tunnels, and remains of their pottery have been discovered here. Spaniards hid here from the invading English in the 17th century. You can go cave exploring and marvel at the underground Grotto Lake (which appeared in the James Bond film "Live and Let Die").
St. Mary's Anglican Church is a stunning stone structure on the Montpelier Estate. It was built in 1847 and was the location of a slave insurrection against the estate's owners, which was burned down.